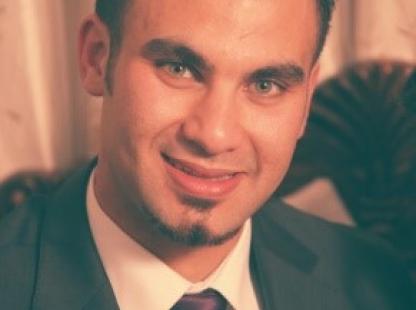 Special Seminar with Ghaith Androwis
DATE: Tuesday, February 19, 2019
TIME: 12:45 PM
LOCATION: Room 698 Fenster Hall
CONTACT: rocha@njit.edu
Speaker:
Ghaith Androwis, Ph.D.
Research Scientist
Human Performance and Engineering Research Center
Kessler Foundation
   and
Assistant Research Professor
Department of Biomedical Engineering
New Jersey Institute of Technology
Title:
Wearable Robotics for Mobility and Rehabilitation
Abstract:
Over-ground robotic exoskeleton (RE) technology has recently become a treatment option for gait training and rehabilitation for persons with mobility deficits (e.g. stroke, spinal cord injury, traumatic brain injury and MS). The potential of improving ambulation and enhancing mobility for individuals with different types of neurological disabilities is possible through use of these robotic systems. Yet, current robotic technology, when used for rehabilitation or as assistive devices for over ground walking, should consider the user's intended movements to achieve more biologically similar gait patterns. This talk will present an overview of the clinical implementation of a commercially available robotic exoskeleton utilized in a rehabilitation hospital for persons with mobility deficits, and will discuss the potentials of the research and development (design and control) for a new generation of lower extremity robot exoskeleton that enables the implementation of novel, transformational user-exoskeleton control strategies. Additionally, the presentation will discuss future research directions and collaborations. 
Bio:
Ghaith J Androwis, Ph.D. is Research Scientist in the Human Performance and Engineering Research center (HPER) at Kessler Foundation (KF), and Clinical Research Scientist at Children's Specialized Hospital. Dr. Androwis also holds appointments as Assistant Research Professor at New Jersey Institute of Technology (BME department) and Rutgers University (PM&R department). Dr. Androwis's background is in biomedical engineering with a Doctor of Philosophy focused on rehabilitation engineering and two postdoctoral fellowships in wearable robotics, biomechanics and rehabilitation engineering.
Dr. Androwis joined the HPER at KF in 2015, as a Postdoctoral fellow, to work on robotic exoskeleton for gait rehabilitation in persons after brain injury (stroke, TBI), and children with brain injury (TBI, CP). Currently, his role as Research Scientist in the HPER focuses on developing deeper understanding of the usefulness of wearable robots and orthoses in persons with mobility disability (e.g. multiple sclerosis (MS) and spinal cord injury (SCI)). He has recently been funded from the department of defense (DOD) of the Orthotics and Prosthetics Outcomes Research Program division (2018-2021) to determine the efficacy of upper extremity wearable robotic orthosis on improving motor function and activities of daily living in persons with SCI. He is also the PI of a research project funded by the National Multiple Sclerosis Society investigating the mobility and cognitive effectiveness of a commercially available lower extremity robotic exoskeleton (EKSO-GT) in rehabilitating persons with MS. Further, Dr. Androwis, at NJIT, is leading the research and development of the NJIT-KF lower extremity robotic exoskeletons (the NJ Trekker), which presents a new generation of robotic exoskeleton for over ground walking in individuals with mobility disorders (novel design and control). This project has been selected as one of the seven finalist projects at the 2017 International Symposium on Wearable and Rehabilitation Robotics held in Houston, TX, (November 2017), and won the best project presented at the conference.
Dr. Androwis serves as a reviewer for Engineering in Medicine and Biology Conference, and has served as a reviewer for the journal of IEEE Transactions on Biomedical Circuits and Systems and the IEEE Conference on Rehabilitation Robotics (ICORR). Dr. Androwis is also a member of the IEEE society and is a member of the exoskeleton technical interchange group organized by National Institute of Standards and Technology (NIST).