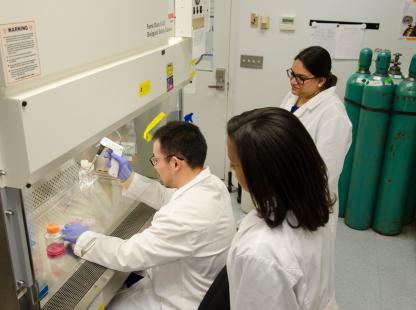 Tara Alvarez
Professor

neuroplasticity, concussion, functional imaging, eye movements, data analytics

Treena Livingston Arinzeh
Distinguished
Professor

Applied biomaterials and tissue engineering; cell-biomaterial interaction; materials processing; surface characterization and modification of biomaterials; materials testing; in vivo models; tissue-engineering scaffolds for repair of bone and other related musculoskeletal tissues; nerve tissue regeneration utilizing stem cells.

Bharat Biswal
Distinguished Professor
Mapping the brain's activity. Using fMRI to study how different regions of the brain communicate while the brain is at rest.

Namas Chandra
Distinguished Professor

Traumatic brain injury, material science, molecular dynamics, nanoscale composites, nanoscale composites, biomedical engineering, superplasticity, computational material science.

George Collins
Research Professor

Amorphous phase in pharmaceuticals and biomaterial solids; molecular origin of physical behavior of polymeric and pharmaceutical solids; physical characterization of biomaterials; nano-fiber materials; fabrication of novel scaffolds for tissue engineering applications.

Jonathan Grasman​
Assistant Professor

Our research objective is to better elucidate the mechanisms behind tissue innervation and soft tissue reconstruction. Specifically, we focus on fabricating tissue systems from a variety of biopolymers to generate neurovascular and skeletal muscle tissue mimetics to enhance regeneration and innervation in incidents of traumatic injury, neuropathy, or genetic disorders both in in vitro systems and in vivo.
-Tissue Engineering
-Biomaterials-tissue/cell interactions
-3D tissue models
-Tissue innervation
-Neurovascular interactions
-Soft tissue regeneration and reconstruction
-Skeletal muscle tissue engineering
-Neural tissue engineering
-Nervous system injury and repair
-Stem cells and cellular reprogramming
-Biopolymers
-Volumetric muscle loss

Amir Miri
Assistant Professor

Dr. Miri's research group works on 3D bioprinting platforms for creating disease models and microfluidic chips, with a focus on the development of novel biofabrication methods. He pioneered the design of multi-material bioprinting platforms to fabricate micro-tissue models and organoids. He is now building up his research group on organ-on-chip platforms and microfluidics for drug screening.

Neural engineering; rehabilitation engineering; computer-assisted rehabilitation.

Vivek Kumar
Assistant Professor

Peptide based biomaterials; self-assembly; tissue engineering; drug development; in vitro testing; in vivo models; angiogenesis; inflammation.

Alice Eun Jung Lee
Associate Professor

Cardiovascular tissue engineering with applied mechanics; stem cells; regenerative medicine.

Xiaobo Li
Associate Professor
Computational neuroanatomy, multi-modal MRI (structural MRI, fMRI, DTI), bioinformatics, graph theory, machine learning, neuroimaging in brain development and disorders (e.g. ADHD, ASD, schizophrenia, TBI).
Saikat Pal
Assistant Professor

Human movement, rehabilitation exoskeletons, computational biomechanics

Bryan Pfister
Professor and Chair

Tissue engineering; developmental neural biology; axon growth; mechanisms of neural injuries; nervous system injury repair.

Mesut Sahin
Professor
Neuromodulation of the cerebellum, transcranial AC Stimulation (tACS), Focused Ultrasound (FUS) Stimulation, Recordings of Cerebellar Activity with Carbon Microelectrodes
Xianlian Alex Zhou
Associate Professor

Computational biomechanics; digital human modeling; robotics and human-machine interface; personalized medicine.