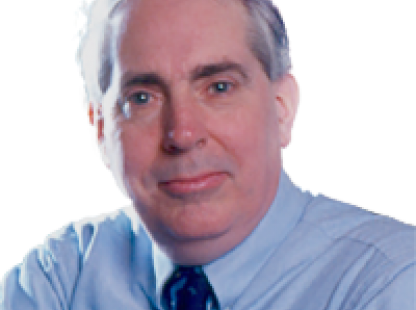 Remembering William C. Hunter (1946 - 2019)
In memoriam of Professor William C. Hunter
I met Bill in 2002 where he became one of my primary research mentors. He read many of my grant proposals. He was very generous with his time and expertise which always lead to stronger science.  His legacy created the foundation for our current Biomedical Engineering Department. He was a strong advocate for integrating our Ph.D. with a medical school, hands-on exercises for both undergraduate and graduate students. I am grateful, for all Bill's time and expertise.
– Tara Alvarez  
"It is an honor and a pleasure to write some words in memory of Dr. William Hunter... (Read more)
- Eileen Haase
I wish to thank and credit Dr. Bill Hunter, my advisor since my first day at Hopkins. He allowed me to chart my own course of research, in my own style, yet always knew when it was time to give me direction at the critical moments when things were either going to far astray or going nowhere. His immense enthusiasm for, and thorough knowledge of, the entire field of cardiac mechanics research, from the smallest molecules to whole heart mechanics, I find truly inspiring.
- Walter O'Dell
As a mentor and my thesis examiner, he was super generous with his time and advice. I learned a lot from him...but most importantly, what it meant to be a good human being.
- Sanjay Parikh
Bill — Thank you for your inspiration, mentorship, and friendship.  The thing that comes to mind immediately when I think about Bill is his booming and infectious laughter and his ability to have a conversation.  I met Bill for the first time in 1976 when I joined the Department of Bioengineering at the University of Pennsylvania (Penn) as a graduate student, where Bill was finishing his PhD.  Bill came back to Penn after a brief tenure in the Netherlands and he and I shared an office for a couple of years, before he joined the Biomedical Engineering faculty at Johns Hopkins University.  This was the best thing that could have happened to me—I learned a great deal of cardiovascular mechanics and physiology from Bill.  He was an amazing teacher and had an uncanny ability to explain complex concepts in a simple and intuitive way.  I consider his PhD thesis—A New Approach to Ventricular Dynamics: The Flow-Pulse Response—to be a seminal piece of research work.  I visited Bill (and Sharon and Amy) several times in Baltimore and we have kept in touch all along, working on problems of mutual interest and publishing together.  I am thankful to Bill on a personal level as well, for I learned to appreciate the idea of a "professional debt of gratitude" from him.  Clearly, our professional lives are in a very competitive arena, wherein an inward-looking focus is of prime importance—my goals, my needs, my accomplishments, etc.  I learned from Bill to look outwards as well—for he strongly believed that each one of us is standing on the shoulders of those who have come before us.  Of course, this idea of a professional debt of gratitude is not limited to those who have come before us; it extends to our contemporaries and those who will follow us, i.e., our students.  Although this type of thinking is not a magic bullet, it has helped me in my decision-making process, particularly with those that involve human interactions, and I have Bill to thank for this wonderful lesson.  Rest in peace my mentor, colleague, and friend; I will miss your laughter and our stimulating conversations.
-Sanjeev Shroff, University of Pittsburgh, Pittsburgh, PA
. I am a 1996 graduate of the Johns Hopkins MD/PhD biomedical engineering program and I knew Bill well. I first met him in January 1989 when I came to Baltimore to interview. Although I was initially a bit intimated by the aura of the institution, upon meeting Bill my nerves were immediately settled. He greeted me with disarming warmth and kindness and a great sense of humor—traits I would come to know well. 
After matriculating at Hopkins, I had the pleasure of working in Bill's lab for 2 years. I credit him for formally introducing me to the scientific process in a robust and meaningful way. From him I learned all about tissue mechanics. This was an invaluable education. 
Although his scientific brilliance was undeniable, for me it was Bill's personal traits—including a highly infectious laugh—that made him stand above. He made me feel like I belonged at Hopkins and gave me the confidence to succeed there, and beyond. I will always treasure the guidance that he provided, and I will always remember him mostly for his humanity. I loved that man, and in this regard I know that I am not alone.
-Michael K. Atalay, MD, PhD, FSCCT, FSCMR
---
It is with great sadness that we report our dear friend and colleague William C. Hunter of the Biomedical Engineering Department at New Jersey Institute of Technology passed away on 3 January 2019.
Professor Hunter joined NJIT in 2002 as the Biomedical Engineering (BME) Department Chair, just one year after the Department launched its undergraduate program. Prior to joining NJIT, Professor Hunter had more than 20 years of service at the Johns Hopkins University and held earlier positions at the University of Leiden and the University of Pennsylvania. He received his education at Lehigh University (B.S. 1968) and the University of Pennsylvania (Ph.D., 1977). Among Professor Hunter's most important accomplishments during his years as BME Chair (2002-2008) were the development of the BME curriculum, the hiring of many new faculty members, gaining ABET accreditation for the first time, and formation of new student laboratory facilities. These initiatives were critical to the success of our Department. 
In his research activities, Professor Hunter focused on cardiovascular mechanics and more recently on biomedical applications of MEMS devices. His findings in these areas were disseminated, among other publications, in Biophysics Journal, Circulation Research, Aging Cell, American Journal of Physiology, Progress in Cardiovascular Diseases, and the Journal of the Mechanics and Physics of Solids. In 2003, the American Institute for Medical and Biological Engineering (AIMBE) made Professor Hunter a Fellow "for significant contributions to bioengineering of the heart, which has allowed integrated understanding of cardiac contraction from protein to pump." Recently, Professor Hunter was awarded, as a co-PI, a National Science Foundation Science and Technology Center (Center for Engineering MechanoBiology) that is still active. This is a multi-institutional center (led by the University of Pennsylvania) devoted to developing a new discipline and new generation of scientific leaders in understanding forces in living systems.
As an NJIT educator, Professor Hunter was the developer of a number of fundamental and popular courses and laboratories, including Engineering Models of Physiological Systems; Biomedical Computing and Signal Processing, and Cardiovascular Mechanics. Coupled with his work as administrator in the early years of the Biomedical Engineering Department, these contributions to the BME curriculum and to the education of our BME students have been seminal in establishing the BME discipline at NJIT and in putting the BME Department "on the map"– nationally and internationally.   
During the last few years, as he was battling grave illness, Professor Hunter continued on an unbroken path of professional activities and contributions, including new research proposals, new projects, and new professional activities. Most recently, he was the lead organizer of the widely attended 43rd Annual Northeast Biomedical Engineering Conference (NEBEC), which he organized and hosted at NJIT in April 2017.
Professor Hunter's colleagues at NJIT will remember him as a first-rate researcher, educator, student advisor, and colleague.  He was an influential administrator devoted passionately to the advancement of the Biomedical Engineering department and discipline at NJIT. We feel fortunate to have had the opportunity to work alongside Professor Hunter and are thankful for the long-term positive impact that he left behind. We send out deep condolences to his family and friends on this sad loss of a great teacher, mentor, researcher, administrator and friend.   
============================================================
Professor Hunter's family has set up a memorial donation page, https://njit-connect.njit.edu/hunter-memorial-donations. This page is in his honor, to represent the passion he had for the BME students and their education. Gifts will be directed to the BME Discretionary fund, which will be used for student support. Donations can also be made to the Foundation at NJIT, Office of Development and Alumni Relations, 323 MLK Blvd, Newark NJ 07102-1983.   
===========================================================
A Memorial for Dr. Hunter is being planned.  Anyone who would like to be updated on this, please email bmechair@njit.edu.