Speakers: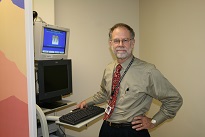 Thomas W. Findley, Ph.D., M.D.
Department of Physical Medicine & Rehabilitation
Rutgers - New Jersey Medical School
Title:

Transmission of mechanical forces in the body: Their role in health and disease
Abstract:
The role of mechanical forces is far more complex than the traditional muscle-tendon-bone model of movement.  They guide development of the embryo from its earliest stages; regulate remodeling of bone and muscle; adjust fluid movement through the extracellular space; directly impact DNA transcription in the nucleus; and provide a body wide information transmission system.  This lecture will integrate recent cutting edge research findings with older lesser known studies, suggesting ways the biomedical engineering perspective can contribute to understanding basic human physiology, particularly regarding growth and spread of cancer.
Followed by recent research on
Muscle Strength and Stiffness in Resistance Exercise:
        Force Transmission in Tissues
By:
Hans Chaudhry, Ph.D
Research Professor
Department of Biomedical Engineering
New Jersey Institute of Technology