Seminar Friday, October 9
Speaker:
Martina Decker, Ph.D.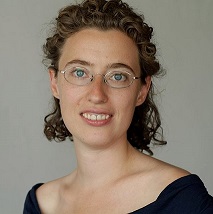 Assistant Professor
New Jersey Institute of Technology
Title:
Active Matter -  Emergent Materials in Architecture
Abstract:
With its essential material components having a size of 100 nanometers or less, the diminutive dimensions of nanotechnology might suggest developments of little consequence. However, because of its ability to fundamentally influence the properties of matter, nanotechnology offers numerous opportunities for a wide range of applications. In times when solutions to pressing global issues are being sought, the advent of nanotechnology has created tremendous anticipation. In architecture and its related design disciplines, this excitement has become particularly focused on the evolution of newly developed high performance materials.
Exploring emergent material examples, this lecture focuses on recent achievements in materials science research, while considering potential architectural and design applications for these advancements.
Bio:
Martina Decker is an assistant professor at the New Jersey Institute of Technology in the College of Architecture and Design. She is originally from Munich, Germany, where she received her professional architecture degree from the University of Applied Sciences.
Ms. Decker has worked on a wide range of award-winning projects that represent a penchant for interdisciplinary work, including: art installations, consumer products, and buildings. She is known for her pursuit of design innovation through emergent materials, and works directly with various types of smart materials and nanomaterials. She investigates their properties, discovers their capabilities, devises applications for them, and fabricates prototypes that demonstrate their potential. In the context of NJIT, Ms. Decker continues her interdisciplinary endeavors and her investigation of emergent materials and technologies in her Material Dynamics Lab.