Seminar Friday, December 9, 2016
Speaker:
Joseph McArdle, PhD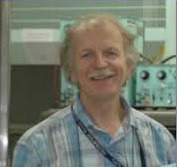 Professor of Pharmacology and Physiology
NJ Medical School
Rutgers University
Title:
 "Molecular Interactions of Botulinum Neurotoxin A: The Search For Antidotes"​
Personal Statement::
Upon completing studies of the neuromuscular junction (NMJ) with Edson Albuquerque, I moved to NJMS to begin independent research. Subsequently, I worked with the following NMJ scholars: Alberto Mallart (CNRS, Gif-sur-Yvette), Vincent Dionne (Boston Univ), Peter Gage (John Curtin School Med Research-Australian National Univ), Phillip Nelson (NIH, Bethesda), Thomas Lentz (Yale Univ), Veit Witzemann (Max Planck Inst-Univ Heidelberg). My lab studies molecules (e.g., AChR, MuSK, AChE,TLR9, SNAP-25, FOF1H+-ATP synthase) involved in NMJ health. Transgenic mice, shRNA, toxins with known targets, as well as clinically relevant drugs with neurotoxicity provide tools for our work. Interactions with a patient who survived 40 LD50s of botulinum neurotoxin A (BoNT/A) stimulate our study of BoNT/A. In collaboration with James Schmidt (USAMRIID) we explored cleavage products which inhibit BoNT/A light chain endoprotease (LCE) in a cell free system. The goal is to translate LCE inhibitors into in vivo therapies. Our collaboration with Brenda A Wilson tests the principle that the BoNT/A heavy chain can deliver LCE inhibitors to poisoned motor nerve endings. In addition to providing a needed therapeutic, our collaboration helps shape work to develop clostridial toxins as drug-delivery vehicles. There are few teams more qualified than ours to meet the challenge and promise of botulinum neurotoxins.