Speaker: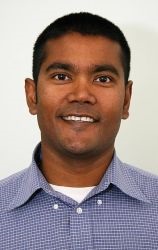 Saikat Pal, Ph.D.
Assistant Professor
Department of Biomedical Engineering
California Polytechnic State University
Title:
Accelerating biomedical design and discovery using computational simulation
Abstract:
The human body is complex. It is orders of magnitude more complex than anything we have manufactured. Experimental methods alone cannot decode the complexities of the human body. We need computational methods to accelerate biomedical design and discovery. I am interested in developing computational models to understand the musculoskeletal system and to design lasting biomedical devices. I will present a few case studies and discuss the impact of my computational models.
Biography:
Dr. Saikat Pal is an Assistant Professor in Biomedical Engineering at California Polytechnic State University, San Luis Obispo (Cal Poly). Prior, he worked as a Post-Doctoral Scholar and Research Associate at Stanford University and Veterans Affairs Palo Alto. Dr. Pal has a B.S. in Computer Engineering (Magna Cum Laude), and an M.S. and Ph.D. in Mechanical Engineering. He has authored over 55 peer-reviewed journal articles and conference abstracts to date and is co-Director of the Human Motion Biomechanics Laboratory and the Director of the Compassionate Design Laboratory at Cal Poly. Dr. Pal is Faculty Advisor for Engineering World Health at Cal Poly.