BME Students Score Perfect 4.0
BME students Hamid Bagce (Left) and Angelie Mascarinas hold a poster describing their senior project.  Senior Matthew Magnifico, not pictured, was also a member of this project.  Hamid and Angelie graduated NJIT with a perfect average of 4.0.  They were the only two students in the school of engineering to  accomplish this feat this year.  Hamid and Angelie both plan to attend UMDNJ medical school.  Hamid also plans to complete a PhD while he attends medical school.



Dr. Simone, Author of New Textbook
"If I Only Changed the Software, Why Is the Phone on Fire?  Is the title of a new book, written by Biomedical Engineering Research Professor, Dr. Lisa Simone.  Written in a catchy detective-style format, this book provides unique solutions to typical software debugging problems.  Simone draws readers into her book by providing real-world debugging scenarios of progressive complexity – she then guides the reader step-by-step toward successful solutions.  The final chapter, a summary of the smart debugging techniques introduced throughout the book, is a quick reference to help solve future problems.
Dr. Simone's idea for the book grew out of her desire to teach her students engineering problem-solving skills in an easy to follow format.  She felt that weaving her own experiences into a mystery-type story was an idea that might engage her students as well as the general reader.  She also knew that it was a book yet to be written.   She has already started to use it as a teaching reference in her graduate class BME 698-118 – "Intro to Embedded Systems."  So far the book has produced an enthusiastic response in her class.
Dr. Lisa Simone has been a member of the teaching staff of Biomedical Engineering since the beginning of 2006.  She has been working on a number of research projects including the "Portable low-cost glove for functional hand measures" funded by the National Institutes of Health. Dr. Simone is developing the wearable wireless Shadow Monitor, a device to assess hand function rehabilitation in individuals following brain injury.  The goal of this research is to characterize and understand hand function over long periods of time as individuals participate in home and community activities.
In her free time Dr. Simone enjoys mentoring students and engineers, and volunteers as a judge and coordinator for student technology and engineering research paper and design competitions. She is also a SCUBA diving assistant instructor and enjoys photographing underwater shipwrecks, sharks, and other marine life.
For more information on Dr. Simone - see this story: http://www.njit.edu/features/sceneandheard/lisasimone.php
Student Appreciation Day, 2007
Biomedical Engineering Senior, Meriam Dawood, proudly holds the jar of Jolly Ranchers that she won on Student Appreciation Day, February 22, 2007.  Meriam handed in a random guess of 367.  She was the closest to the actual amount in the canister which numbered 360.  When Meriam is not entering contests she is hard at work studying. She plans to pursue a Master's degree in Biomedical Engineering upon graduation.



32nd Annual Northeast Bioengineering Conference, April 2006
The 32nd Annual Northeast Bioengineering Conference, held April 1 and 2  at Lafayette College in Pennsylvania,  was well-represented by NJIT's biomedical engineering students and recent grads.  Pictures of some of the presenters can be found below.
3rd  Place Winners of the Undergraduate Poster Paper at the 32nd Annual Northeast Bioengineering Conference - P. Athanasiou, N. Chawla, and E. Leichtnam.  Title of Poster: "Assistive Robotic Manipulator Interface"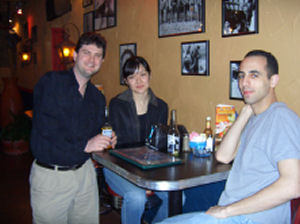 Professor Michael Bergen and former BME students, Florence Chua and Robert DeMarco.  Both students now work at the VA Medical Center in East Orange, NJ.
 
BME Honor Society Induction
Thirty-two students were inducted into the BME Honor Society on Friday, February 10, 2006 at a ceremony held in the Student Campus Center Atrium.  The program included an introduction by BME Society public relations officer, Ronak Trivedi, and an address from BME Chair, Dr. William Hunter.  Nishant Vyas, founder of the BME Honor Society, was also on hand for the ceremony.
Congratulations to the Inductees

Paul Matthew Chao
Nimisha Kapadia
Jeremy George
Angelie Mascarinas
Avani Shridharani
Eun Hwa Kim
Allison Williams
Mehul Patel
Rina Shah
Chris Khalil
Jay Kothari
Jay R. patel
Namrata Desai
Nehal M. Patel
David Lin Ahmed Zaki
Lydia Songprasia
Mark Hanna
Stefanie Eng
Lia Isabel Liebgold
Robert Diaz
Carlos Castillo
Dennis Roberts
George Magou
Jan Christopher L. Merene
Radha Yamarthy
Carla Cerqueira
Dulce Mascarinas
Nishant Vyas

 



NJIT Hosts Biomedical Showcase
NJIT hosted more than 300 students, researchers and educators and 25 companies in March 2005 at the second annual New Jersey Biomedical Engineering Showcase and Career Fair. See more photos of the event (pdf, 203KB).